AP Studio Art
Teacher: Mrs Miller

Description: This college level class is intended for highly motivated students who are seriously interested in the study of studio art. This is a yearlong class and students must be committed to the entire year of study. This course requires significantly more commitment and accomplishment than the typical high school class and is not intended for the casually interested. There are many hours of outside the class work required. The students will learn basic drawing and painting skills using pencil, charcoal, oil pastels, watercolor, acrylic paint, equal to college freshman year basic art. The students will complete a portfolio of 24 quality artworks.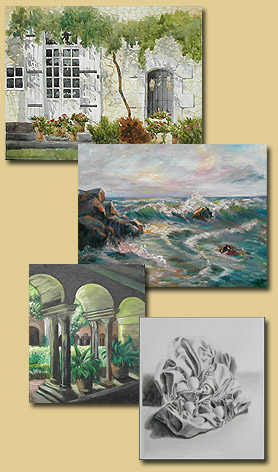 Museum Studies (Student Art Docent Program)

Description: In this yearlong class the students will create their own art lessons for elementary school students based on the elements and principles of art, touchstone artists, art movements, and interdisciplinary subjects. They will write lesson plans, make examples of artwork and practice teaching techniques. The students will work in grade level co-operatives to create and write lesson plans, and make art samples. One day a week, leaving at the beginning of lunch, in their own cars, the students will travel to an elementary school and teach these lessons to first through fifth graders. If the student has a sixth period class, s/he will return to Cleveland High by the end of fifth period.